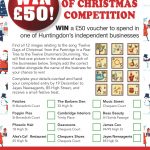 🎅 WIN a £50 voucher to spend in one of Huntingdon's independent businesses in our "Twelve Days of Christmas Competition!"
Get your entry forms from businesses and other locations in the town centre, such as the Library and cafes.
Then for the fun bit! In the windows of 12 businesses in town, you will see one of 12 images relating to the song 'Twelve Days of Christmas' – from a Partridge in a Pear Tree to the Twelve Drummers Drumming.
Just find all 12 and simply add the correct number alongside the name of the business for your chance to win £50.
Complete your details on the form and hand your completed entry to Jayes Newsagents, 85 High Street, by 19 December and receive a little festive treat.
And you could win an extra £25 if you complete the (easy) crossword too.
Return your entry to Jayes Newsagents by 19 December.
The winning entry will be drawn on 20 December.